Technology is one of the key systems that help to power the modern world engine as we know it. Therefore it makes sense that as technology progresses over time so should the systems it supports. Some of the biggest buzzwords in technology at the moment include artificial technology and Blockchain, because what is better than robots and security? Yeah, I couldn't think of many things better than hyper-intelligent robots either. However, not every industry has felt the full power that A.I., Blockchain, and chatbot technology can offer the new world, one in particular- the financial world has barely sunk its big toe into the new technologies.
An Expert Opinion
There are people, for example, Deloitte LLP, who are of the opinion that regardless of the fact that Blockchain and the other technologies mentioned are not necessarily to go live, they do have good prototypes available. These prototypes can easily be fed into pre-existing frameworks and then piloted in a small section of the organization before being rolled out at a later stage. Deloitte went on to add that companies need to seize the moment and begin building their own relationship with these new technological avenues so that they are not left behind once they are ready for production.
Current Examples In The World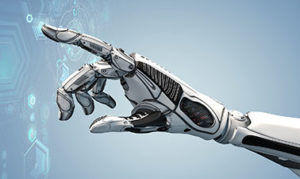 Robotics has already become a crucial part of many organizations within manufacturing and even has helped to assist in the distribution of products throughout an ordered network. On the other hand, Blockchain is now well known as a key mechanism in the future of logistics tracking and has proven itself within the diamond mining sector as well. Deloitte went on to add that while manufacturing, mining and logistical operations might seem as far apart from the world of financial institutions as one can imagine, in reality, these are extremely relevant examples for them.
And So The Obstacles
Currently, as it stands the main obstacles that have been identified to instituting new, more efficient technologies within large organizations is their pre-existing systems, frameworks, and attitudes. This is not an impediment to smaller organizations or startups who are often more willing to break out and attempt unconventional things. Expert analysts within the team at Deloitte went on to add that conventional methods of ERP systems are on the out, and instead in the future finance departments will be using chatbots and online applications to aid them with tasks. Furthermore, these online applications will be fitted with A.I. capabilities enabling them to find the most relevant data, assemble it in an easy to understand format, and all in record time.
The integration with new technologies provides multiple benefits to financial departments including faster turnaround time with issues and requests as well as an instant collection of transaction data as the event occurs within daily life. In addition, Blockchain technology will now give rise to a whole new framework for transactions, allowing fully secure payments with no worry over middleman fees, as funds can be sent immediately. Blockchain is one of the first technologies that major banks are beginning to look into and will be one of the pioneering technologies to lead the way in the facelift of the financial industry.